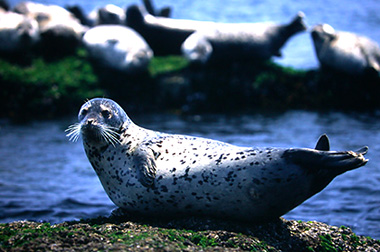 Green Korea United and Yasomo(an organization for saving wildlife) had researched spotted seals in Baekryeong-do since 2004 and published 'Spotted Seals Report' in December 2005. Now they are planning to visit Liaodong, China, which is one of the major habitats of spotted seals and famous for it's research on them. Spotted seals stay in Baekryung-do(located in Northern part of the West Sea, Korea) from late March to late November every year, then move to the icy ocean of Liaodong Bay, China, for breeding.
According to Chinese researchers, there lived 8,000 spotted seals in 1940, but they have decreased rapidly. To be more specific, 2,300 were reported in 1980 and only 1,000 are left today. Now 350~400 of them are living in Baekryeong-do. Green Korea United is making efforts to protect spotted seals through several campaigns.
Korean Government has designated spotted seals as Precious Natural Treasure No. 331 and put them into the group of Endangered Wildlife Grade 2nd. However, specific policies have never been made to protect the spotted seals, which are threatened by fishing industry and polluted water. A climatic change is also expected to endanger spotted seals.
Above all things, it is necessary to unify the name of spotted seals. Baekryeong-do Seals are called as "seals" or "sea lions", but the name "spotted seal" is desirable. Their scientific term is not Phoca vitulina, but Phoca largha. We have to monitor the movement of spotted seals, changes in number and their habitats. Also, we need to investigate the actual conditions of residents' fishery and make an international policy for protection.
Oceanic mammals in Korea are in trouble. It is possible that they disappear because of natural changes, according to the law of the survival of the fittest. Korean sea animals, however, became vulnerable totally by human behavior. We sincerely hope that spotted seals and human beings will live in harmony as a result of public efforts.
■ Our Suggestion and Further Plan


Joint research on Beakryeong-do spotted seals.
Government and NGO need to make a cooperation research group so they can protect spotted seals together. They can unify the term of the spotted seals, make preservation policies, and do any publicity activities. Futhermore, making a research center need to be taken into consideration.
Inhabitants gathering for discussion
Both human beings and animals are the owners of Baekryeong-do, so none of them should be ignored. In order to bring about the most desirable results, residents in Baekryeong-do should lead the saving movement. Green Korea United suggests that the Ministry of Environment, Cultural Properties Administration, Ongjin county and NGOs cooperate to discuss the spotted seals matter.
China-Korea international symposium on spotted seals
Spotted seals range over the sea of Korea and China. Green Korea United suggests that international effort for saving Spotted seals should be made. China and Korea can share their research products and try to form the international network all over the world. The first China-Korea international symposium on this issue is going to be held on June 2006. Green Korea United anticipates fruitful results from this international event.

Title: China-Korea International Symposium for Saving Spotted Seals
Date: June 12-16, 2006.
Place: Green Korea United Office
Presenter: Wang Peilie, Wen Bo, Won Chang-man (National Institute of Environment Research) Kim Seo-ho (KBS Producer) Kim Je-nam (Secretary General of Green Korea United)
The officer in charge: Yoon Sang-hoon (Green Korea United)

0
: