- The USA's betrayal of the Kyoto Treaty is terrorism against Humanity and the Earth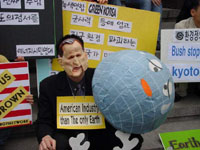 Dismay is being expressed across the world at the decision by U.S President George W. Bush to abandon the 1997 Kyoto Treaty aimed at staving off global warming. Kyoto Protocol was signed in December 1997; it called for a worldwide reduction of emissions of carbon-based gases by an average 5.2 percent below 1990 levels by 2012. It was a minimum effort to save the earth among nations from global warming.
GKU is strongly against Mr. Bush's foolish decision. Global warming is one of the largest disasters in the world. It destroys our precious planet. We think the USA's betrayal of the Kyoto Protocol is a terror against Human beings and Mother Earth.
The US has the highest per capita CO2 emissions in the world. People around the world already faced with the first signs of climate change, suffering from floods and hurricanes, expect USA to be in the forefront of tackling climate change.
If President Bush fail to change the decision to kill the Kyoto treaty, future generations will not forgive him. It means President Bush, does not deserve to live on our precious Earth.
The US must join the world in tackling climate change.

0
: