What is Car feer day?

Cars are the major problem causing global warming. That is why European countries have any one day in September assigned to campaign car free day in city. This movement is spreading in Korea also. We plan to announce that "Let's reduce car use in order to prevent global warming,' message.
In 1997, the car-free day has been started from La Roche (the harbor city of west France) and spread to the whole country in 1998 and many big cities around the world. The catch praise, "In town, without my car", and so many citizens are the same phenomenon in any city around the world.

"The citizens by themselves shall be away from the car dependent living" and "Let's make an environmentally friendly city that is familiar with pedestrians, public transportation users, bikes and inline skating" phrases are the action agenda for the Europe city (Local government organizations) and citizens. In 2000, these phrases were spread out into Asia and American continents including 30 countries and 813 cities. In 2002, UN has asked the local government heads around the world for active participation.

Now, this "car free day" campaign becomes a worldwide campaign. Through participation of positive and volunteering citizens, that campaign will change the car dependant city, society and life style, and reduce the negative aspects of cars and play a major role in making a new city culture.
Because of excessive use of cars, the modern cities face environment destruction, traffic problem, and waste on energy. These problems are already serious disaster to human kinds. Cars are no longer a symbol of modern convenience. Rather they devastate our lives and living places by serious traffic problems, frequent car accidents, air pollution by excessive energy use, and environment destruction by road construction. In France, 6% of the total death is reported to be air pollution related diseases, and this is 1.5% of the gross national production.

This problem cannot exclude Seoul, Korea. Seoul is one of the most polluted cities in the world. More than 85% air pollutants are emitted from cars, and also the serious traffic jam wastes billion won of energy every year. This fact greatly influences our economy since we too much depend on imported energy, which is 97% of the total energy.

Car Free Day! Action

Seoul and its citizens will keep doing this campaign and ultimately get away from the car dependent life. By doing so, we can solve traffic, energy, and environment problems and create a new city culture that humans and life are highly respected.
In 2002, the "car free day" was held in September 28th starting from "car free day in Europe" and separately with one thousand cities around the world. However, Seoul had this campaign in November 17th(Thursday) with people from environment, energy, and consumer's organizations. In 2003, we plan to have the same 'car free day' campaign in September to announce that we have to use public transportations.


Car Free Day in Seoul 2001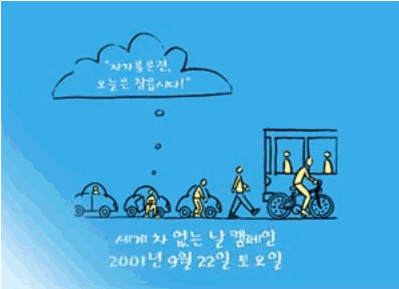 On September 22, 2001, an international 'Car Free Day' campaign was held in Seoul, organized by the 'International Car Free Day Seoul organizing committee'. Dating back to 1997 in France, this year more than 1,300 cities organized events and launched actions in support of the campaign. Included in these 1,300 cities are Seoul, Daegu, Kwangju, and Il-san just in Korea.
Koreans are very worried about pollution and urban mobility caused by the increasing number of cars. Inside the city, many people complain of a poor quality of life: air pollution, noise pollution, overcrowding, etc. Not only roads, but any empty places in the city are dominated by cars, and used as parking lots. This is why this campaign is not just a question of fighting atmospheric pollution or noise, but also of improving the quality of urban life.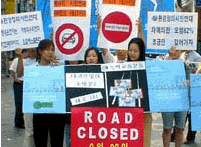 As a public awareness-raising program, many citizens welcomed the 'Car Free Day' campaign. Almost every participant showed interest in the campaign, and wanted to see it repeated.
Encouraging the use of alternative forms of transportation was an important theme for the campaign. Bicycles, roller skates, and carpooling are some of these alternatives and were seen on the street during the campaign.
'Car Free Day' could be a day for 'changing the government's inefficient transportation policy.' People blamed the government for its private car-centered transportation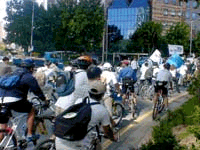 policy. Unfortunately, the Korean government is not seriously considering public transportation improvement. If the government introduces new bus routes, dedicated street lanes, bicycle lanes, and other efficient transportation methods, people will use public transportation rather than buy cars. Some disabled people also participated and expressed the inconvenience of public transportation from their perspectives.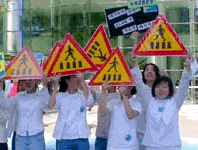 The weather was beautiful, and so all of the participants enjoyed the nice fall day in Seoul. People expressed that they would like to enjoy clean air everyday. The conclusion is to make it possible, we need more actions to change people's life-styles. This was a first step: we don't know how many civilians participated in this campaign and as a result, how much environmental pollution decreased, but we introduced these ideas to Korean civil society and hope that further action will continue.
Further information on 'International Car Free Day Seoul organizing committee' can be found at
http://www.carfreeday.or.kr/

0
: