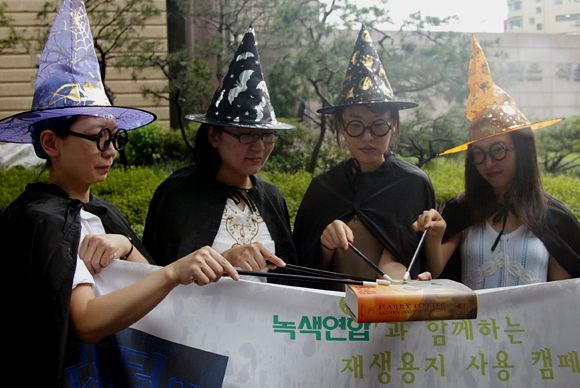 Green Korea today celebrates the decision of Moonhaksuchup, the Korean publishing company, to use recycled paper in printing the Korean language editions of "Harry Potter and the Deathly Hallows" which is to be released in November.
For the initial printing of 1.5million copies of the Korean language editions, Moonhaksuchup will use 700 tons of the "Green Lights" which is paper developed by Noskeskog Korea. The "Green Lights" contains 20% of post-consumer waste fiber. Mr. Seungkuk Choi, Secretary General of Green Korea said "This is a small but gigantic step to sustainable Korea and we applaud Munhaksuchup's progressive commitment to environment."
Considering recycled paper low quality, Korean publishing companies have been reluctant to use recycled paper. However, a senior staff of Moonhaksuchup said "We are satisfied with the quality of the recycled paper". It is expected that Harry Potter on recycled paper will encourage more publishers to use recycled paper.
Green Korea, the South Korean environmental NGO, is developing a program called "Green Commitment" which guides companies to develop policies for using recycled paper. Now, Green Korea is looking at the K-12 text book market where government decides most of paper's quality and kinds. A small publishing company has moved toward a sustainable society. Korean government should show its commitment to environment.

0
: