The government is currently converting 80% of Korea's tidal flat into a freshwater lake and agriculture area by constructing a dike in the Saemangeum area of North Cholla Province. Efforts to influence the government's decision regarding the Saemangeum tidal flat are gaining momentum in recent weeks. Concerned civic groups joined together with Buddhist and Christian leaders to celebrate the existence of this tidal flat in Korea, and pray for it's future.
The festival started with an oratory declaring the importance of the area. Buddhist and Christian ceremonies took place in front of a temporary church-temple structure on the threshold of the tidal flat. As the day progressed, the tide slowly crept in and swallowed land. As land disappeared, those involved in the ceremony were forced to huddle closer.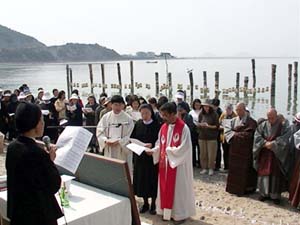 This served as a reminder that time is a crucial element in successfully handling this issue. It is important that action be taken soon by the government to abandon this project that is now 60% complete. Both foreign and Korean scientists have concluded that the results of this project would be devastating to the area. As polluted rivers empty into the new lake, it would be rendered useless almost immediately.
Some worry that once damage is done from this project it cannot be reversed. At stake are countless forms of aquatic plants and animals that the local people depend on for survival. Furthermore, several endangered migrating bird species use this land as a stopover during the migration period.
However, the final decision regarding this project remains as the major stakeholders involved continue their struggle to accept the scientific and economic evidence.

Michael Shea (GKU volunteer)

0
: