The Inter-generational Relay 2001 for the Wild and Future began in the shadow of the Saemangeum museum on June 2 and traced a path by bike and foot that ended in Seoul on June 6. A caravan of one tour bus and at least three vans accompanied bikers along the journey that saw various combinations of participants parade through farmland, main streets, and city thoroughfares with posters, t-shirts, drums, and voices demanding the immediate stop of the Saemangeum Reclamation Project. Support for this event came from the YMCA, Kangwun University, Green Family Movement Organization, Kimje Civilians' Center, Green Korea United, Korean Federation for Environmental Movement, Byoksung University, Buan civilians, Citizens' Coalition for Economic Justice, and Fulsi.
A busload of Kangwun university students and a few GKU volunteers completed much of the journey, but had much help along the way. Local citizen involvement began in the Saemangeum area and lasted the duration of the journey. Large groups of people from the YMCA and local citizens joined the tour in force. In several cities the caravan had crowds welcome them: small children scurried to keep up with the procession, people stopped to converse, and the march to spread the idea of the inherent ecological and economic value of Saemangeum and of similar natural treasures created a swell of support. University students witnessed what they had previously studied in the classroom or read in a textbook. They observed the irreversible damage to Saemangeum's ecosystems while local residents and scientists described the destruction and its impacts. One need only look down at one's feet to see the blanket of dead sealife covering the beaches.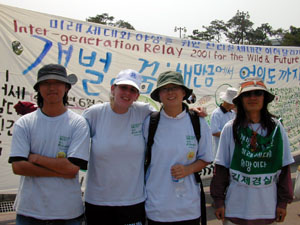 Bikers traveled 20 km from Soduto to Kewhali; 55 km from Kewhali to the wall at the mouth of the Kum River; 27 km from the mouth of the Kum River to the Pusa seawall; 24 km from the Pusa seawall to Daechon beach; 54 km from Daechon beach to Sosan AB zone; 64 km from Sosan AB zone to Deho seawall; 19 km from Deho seawall to Sokmun seawall; 26 km from Sokmun seawall to Sapkuchon seawall; 12 km from Sapkuchon seawall to Asanman seawall; 20 km from Asanman seawall to Namyang seawall; 8 km from Namyang seawall to Maehyanglee; 54.5 km from Maehyanglee to the Sonkam island entrance; 30.3 km from the Sonkam island entrance to Shiwha seawall; and 30 km from Shiwha seawall to Youi island.

Amy Levine (GKU Volunteer)

0
: