We hereby sincerely supplicate for life and peace for the Saemangum tidal flat and the whole world.

We hereby sincerely supplicate for life and peace for the Saemangum tidal flat and the whole world. We start Samboilbae (three steps walking, and one big bow) to Seoul. Right now, this nation and the whole world is going through the most abominable and savage moment.
The world is surrounded with war and death, violence and destruction, fear and pain. There is no space for the dignity and nobility of every individual, the value of coexistence and generosity to stand. Cruel power is reigning over the weak.
We painfully confess that we, too, are accomplices to this situation. The criminals of this endless violence and destruction are our egoism and avarice, our indifference and composure to any problems other than our own, and our everyday life of becoming slaves to capitalism and materialism.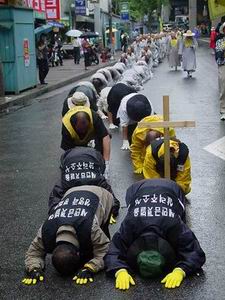 We now announce our request to all the people in the world, including us religious people: repent sincerely and do not fear the hardships. We must have a deep belief in life and peace to diffuse that belief around the world. We must give hope in times of despair, life in times of death, and prayers in times of violence.
There has been a quite a lot of destruction and death for more than ten years, here at Saemangum tidal flat. It is a great battlefield made of human fault and greed. We can hear the cries of Iraqi children from the suffering breath of the Saemangum tidal flat. We can see that our cold-hearted desire to gain temporary benefit with the cost of this innocent tidal flat's pain and death, bears no difference to the shameful act of sacrificing guiltless Iraqi people to gain profit. In this hard time, Catholic priest Moon Gyu-hyun, Budddhist monk Soo-gyoung, Christian and Won-buddism clerics are going for Samboilbae from here, Saemangum tidal flat to Seoul. We are leaving for the 300 kilometers journey, with the most sincere and bold spirits. Along the way, there will be pain and hardships. However, we will save the Saemangum tidal flat, in order to persuade the world to expiate its sins, and save life and peace. We will unite all the people who work for the sake of life and peace by this prayer and penance, Samboilbae. We will share the importance of even infinitesimal things, simplicity of practice, and strength of conviction.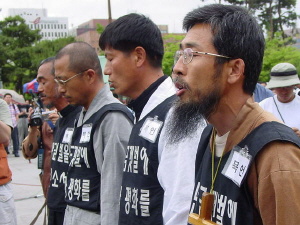 We strongly demand that President Roh stop the Saemangum land reclamation project right away and search for an alternative. He said that when the purpose of this project becomes only the production of agricultural land, it will no longer have its necessity. If so, this tide embankment that will kill all tidal flats must be stopped. We demand that President Roh turn his back on old-fashioned valuation and unwarranted logic. We demand that he become a future-aspiring, environmental president who fits correctly with the twenty-first century.
We insist that Ministry of Agriculture & Forestry (MAF) and Korea Agricultural & Rural Infrastructure Corporation (KARIC) resign from all opportunities of Saemangum land reclamation project. Last March 14, MAF announced in their presidential achievement report that even when the purpose of agricultural land composition is lost, they will still push on with the project. Moreover, they said they will reduce the rice cultivation area. We cannot bear to deplore for MAF and KARIC, that the purpose of the Saemangum land reclamation project is the assurance of provisions and superior farmlands, are changing their words in an instance. We hereby demand clearly to MAF and KARIC, which are now nothing but a group of construction business people or land speculators: Stop the Saemangum land reclamation project which has already lost its justice, logic, and morality.
We know that all we have is our hearts that can pray and our bodies that can endure penances. We will give away all those hearts and bodies to speak about the importance of life and beauty of peace. Even when we fall on roads and our bodies start getting paralyzed, our journey to save the Saemangum tidal flat, and moreover life and peace of the world, will continue.
March 28, 2003
Praying for Saemangum Tidal Flat, Life and Peace of the World.
Participants of the Samboilbae from Saemangum Tidal Flat to Seoul



0
: