Saemangum Project-It's a large scale land reclamation program for which it takes enormous amounts of stones and soil, which is approximately 150 times the size of Namsan to fill an area of about two-thirds of the size of Seoul, 140times the size of Youeuido, and a three hundredth the size of Korean peninsula.

Unfortunately, it is still drifted in the vain greed called 'Development Plan for North-Jeolla' and in a dumb goal called ' Land-obtaining Plan for Eventual Unification'. Even the Supreme Court couldn't put a period to this drift nor could it lead the project in the right direction.
Nevertheless, there is something important to note in the statement of the Supreme Court indicating that the Administration has no reason to be assured of the legitimacy of the Project. This remark leaves us much to think over for that matter.
For this purpose, we were supposed to hold ,on the 19th March, a ceremony entitled 'Spring of Saemangum-National Rally for Saemangum', which was hosted by 'National Caucus for Reconciliation and Harmony' and 'Urgency Committee for Protecting Saemangum Residents from Damage'.
- At 11 o'clock 17th March
"I would like to participate in Saemangum Rally. How many do you expect to join it? "
"I don't know exactly, but I guess it might be about 70."
-At 4 o'clock afternoon
"Saemangum Rally on Sunday. How many do you suppose are going?"
"Guess more people are going to join. It'll be approximately 100"
-At 5 30
"Would you please confirm us on your departure day of Sunday?"
"Sure, but may I ask you how many will go with me?"
"About 120 in all"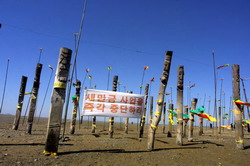 The untimely cold and too pressing a schedule made me worry about the low percentage of participation, but I was totally wrong about it. Day by day, more people were taking part in the rally, and therefore people there seemed to recover in spite of the disappointing Supreme Court judgement.
Three buses departed from Yangjae at 8 o'clock in the morning ,and we arrived at Buan at 12 30. After lunch we visited Haechang tideland.
Haechang tideland was seriously damaged not to be called any longer a tideland in that it is now composed of big stones transported from construction sites. Only some scattered wet lands and some few busy crabs showed that the place had been once a huge tideland.
At 1 30 we arrived at a Saemangum Exhibition. And we went toward the place of ceremony hearing a song called 'a snipe bird'. The place of ceremony was already full of yellow flags on which it is written 'Save the Saemangum!. And lots of placards with aggressive words on made us strained. But 'Gilnori song' by the United Folk song groups and songs by 'Silverlining' changed that atmosphere into an agreeable one.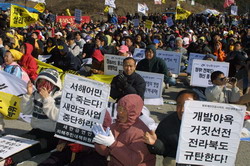 Following the speech of Oh Young-Suk, representative of 'National Caucus for Reconciliation and Harmony' in which she declared that movements for saving Saemangum had just started, Lee Gwang-Seuk, chairman of the National Alliance of Farmers, In Bong-Hwan, Special chairman of 'Urgency Committee for Protecting Saemangum Residents from Damage', and Kang Kigap, legislator of National made an address one by one.
Starting by hearing Baek Kumyeol's(one of the member of Allied Green Peace) exciting song, we tried to go yachting. But in vain we couldn't do it actually, because of the barricades already set up against the residents of Saemangumus and us.
On our way home, one of the participants said, " Seeing the tideland, I cried of sadness in spite of myself. And I decide I would think over Saemangum's problems more seriously"

Some people said that Saemangum's case was officially closed and that it is wiser not to stick to that problem again. But I think otherwise. Sooner or later, those people will realize that artificial blockade will surely cause catastrophic damage. And one day, those firm barricades will be removed. Naturally, the once lost tidal land will be recovered, and new life will be settled there. As the participant says, we should think over Saemangum's problems more seriously. That will be the first step to saving Saemangum.




0
: