Urgent Call, Coming from Daechu-ri - from Whom to Plunder?

For what is to expel villagers out of their homeland and sweep out life-suspending paddy? It is a demolition order by ROK government for USFK to militarily intervene East-Asian international disrupt more easily. And it is a forced removal to hand our peaceful right to live over international powers without asking individual residence in Daechu-ri.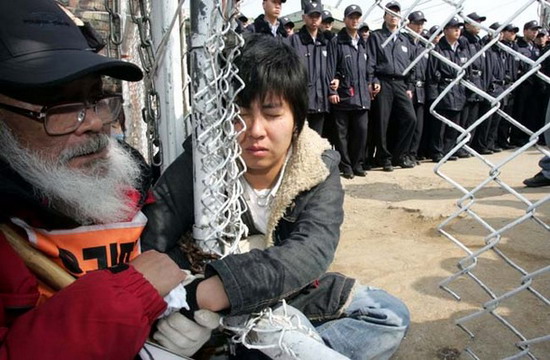 I have spent for a couple of days in extreme tension by leaving shoelace untied and clothing unchanged because I was told demolition call by the Ministry of National Defense is certainly close to be initiated in small countryside of Daechu-ri, PyeongTaek, Kyoungki province in which I have dwelled longer than a year. To crown all, combat police dividing in 25 buses steadily flocked into this village in the morning of 6th March. They are aiming on Daechu-elementary school where residences have fought, holding candlelight, to protect their farmland for almost 550 days while bailiffs from the Supreme court are standing beside the school to take over it.
Residences, couldn't have a wink of sleep, are singing agriculture song in the dark daybreak fog. To prepare for the brutal police force, they are carrying first aid kits and litters, made by a bamboo and a piece of rag, to inside the school. By spending two continuous sleepless nights and defending each corner of the village, people in Daechu-ri are confronting with an approaching violent collision with a tragic resolution.
Government is about to initiate administrative enforcement to extort 9,405,000 m2 (2,850,000 pyeong in Korean measurement) of wide-open land of Hwang-sae-ul in PyeongTaek. Residences were excessively anxious, saying "Things coming." Finally it came here, now. First bullet flied into the school from the 'enemy' line. Government proclaimed 'war' toward people in Daechu-ri and pressed enter-key. What a terrible moment of shooting! If triumph obtained by cruel force had have justification, participants in coup 5.16(in 1962) and Gwang-ju slaughter(in 1980) would have become heroes in Korean history. Though, soon it would be revealed out the justice of a claim of each residence.
How could people in Daechu-ri surmount against government's physical power? There is no mean for them but for being humiliated. There are no other possibilities except being hauled, standing onto a trial and being sent to jail. The police determined a principle of all-pulling to resisting residence.
ROK and US government are trying to concentrate major U.S force in Korean peninsula to PyeongTaek. And the Korean cabinet decided to steal the land from partisan to U.S. Army. Organized physical violence throws away their shell of conciliation and negotiation. "Have you ever put together out suggestion?" Scream of residence strikes governmental authorities who respond with "Your opposition makes sense, but there is no other option." In other words, the procedure is inevitable even if it contains irrationality. Sorrowfully, authorities would not shift their position by retrospecting their chronic non-energetic attitude toward policy irrationality. Now, it is time for citizens of whole country to upheaval this irrational decision.
Last 4th Mar, one statue made by the deceased BonJU, Koo, containing with the farmers' contention, named after "Gab-Oh farmers' revolution"(historical event in Korea, 1894) was established in Daechu-elementary school. This statue of art is representing residence of this village with glaring eyes, resolving mouth, unswerving hands, knees and feet, and knife-looking blood vessel and muscle. This is people in Daechu-ri. Almost half of them left here after taking certain amount of money. People, wants to go, fled out of here. The others, staying in this village without accepting conciliation, are exactly the same as the statue of "Gab-O farmers' revolution."
Residences are not fearful of simple note of intervention of official execution by denying administrative enforcement, namely demolition order. They will unquestionably wait for the day of triumph. They are stamping their hands, saying party of carnival with 5 million-won(approximately U.S. $5,000) ax on the day of governmental removal. With 6 times of stamp, party will be held with 6 axes of every residence and with everybody from all over the Korea. This is the dream of people remained in Daechu-ri. I wholeheartfully believe the government would not be able to conceal their shameness and humiliation if the day comes
Why the ROK government calls up the massive police force into a small countryside village with having their own rise and fall? And why so tenaciously suspend herself to stretch barbed wire and dig up farming land in Pyeongtaek plain of gigantic rice-producing center. So, for what is forced land take-over? Again, it is a demolition order by ROK government for USFK to militarily intervene East-Asian international disrupt smoothly. And again, it is a forced removal to hand our peaceful right to live over international powers without asking individual residence in Daechu-ri.
Oh, citizens who have never assigned back his/her personal rights to powers, let us not to forget Daechu-ri. Run upto here now, Let us cultivate this wide open land with residence by skim out the ROK and US power's barbed wire surrounding Hwang-Sae-Ul.

0
: