It's Your Mess, You Clean It Up!!!!
A recent poll suggests that the US should be held responsible for clean-up costs of pollution withing US military bases. Recently, Gen. LaPorte, the former commander of US Armed Forces, Korea (USFK), proposed that the US would clean up only eight kinds of pollution cases. It appears as if negotiations between the US and Korea have entered its last phase, and the US has made its final gesture regarding issues of clean-up costs. Although the Korean people have the right to know and participate in this negotiation process, the two parties have kept the public in the dark regarding negotiations.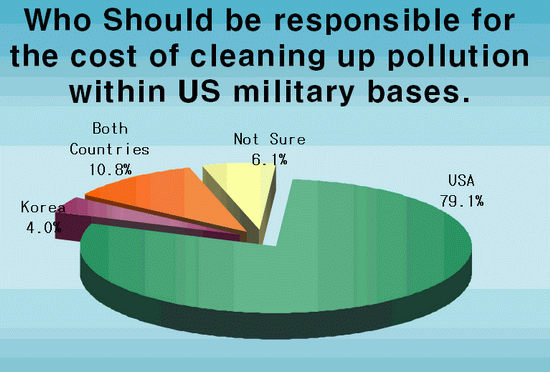 The US claimed it would clean up pollution within military bases according to KISE (Known, Imminent, Substantial Endangerment to Human Health). However, KISE's ineffectiveness was cleary demonstrated in the Philippines where people suffered from pollution left behind by the US military. Moreover, the pollution assessment does not include critical information such as the degree of exposure to local people. Nor does the assessment indicate how pollution spreads and how pollution reaches the local people. Since the pollution assessment does not include such necessary information, the KISE provision (Known, Imminent, Substantial Endangerment to Human Health) should not be applied based on this type of assessment.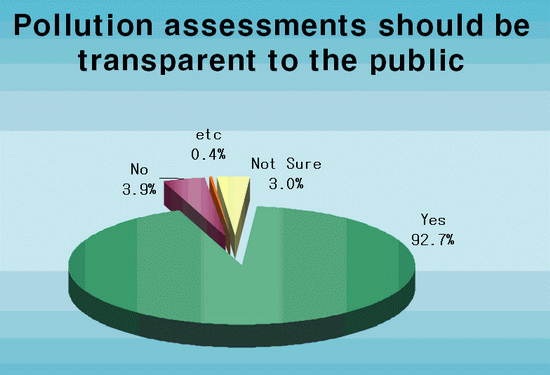 Korean people's rights are being hampered by this veiled negotiation process which is based on insufficient information and invalid provisions (KISE). Therefore, Green Korea United conducted a public opinion poll to inform the ROK and US governments of Korean public opinion regarding base environmental issues. The poll selected over 1,000 Korean males and females nationwide who over 18 years old.


The following present key findings from the poll:


Pollution assessments should be transparent to the public: Yes 92.7 % No 3.9% (cf) the US is against revealing the assessment
Information pertaining to negotiations should be made public: Yes 88.7% No 6.4%
Who should be responsible for the cost of cleaning up pollution within US military bases: the US 79.1%, Korea 4.0% Both countries 10.8%
Korea should be responsible for the cost of cleaning up pollution: 4.0%
Agree to raise taxes to pay for cleaning up pollution within US military bases (if Korea pays for cleaning up): Yes 22% (certainly 2.0%+with hesitation 20.0%) No 74.3% (Absolutely not 47.9%+probably not 26.4%)
Possible Solutions to US military base pollution
a. Amending SOFA (Status-of-Forces Agreement) 59.6%
b. Korean government should strongly demand the US take responsibility for environmental pollution 25.1 %
c. Making pollution assessments transparent to the public 10.7 %

0
: