Korea Report on U.S military responsibility
During 2005' inspection of the Ministry of Environment by the National Assembly, environment of U.S. Army camps in Korea was concerned. Some members of Committee of Environment and Labour insisted Korea government should be receded cleaned up U.S. Army Bases which were contaminated by military training and environment pollution accidents by U.S. Army, also need to examine U.S. Army's responsibility and ask compensation from U.S. Army.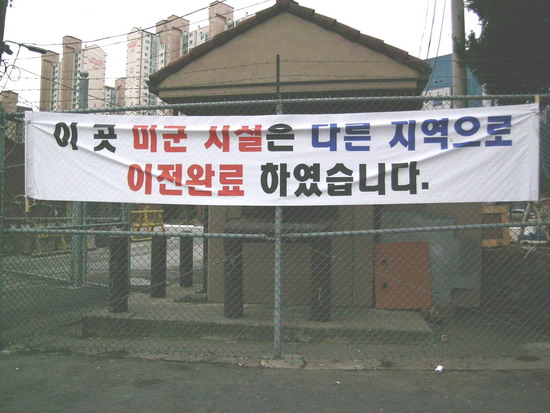 ▲ The closed u.s base in 2005. the placard shows that "It has been completed to relocate the U.S military base here"
According to Korea and USA agreement of LPP(Land Partnership Plan) in 2004, over 34 U.S. military bases in Korea will be return to Korean government by 2011. LPP schedule is still be adjusting because changing strategy of the U.S military and more U.S. Army bases in Korea which changed their mission will be returned to Korean Government once in a while. In 2005, total 32 U.S. Army bases were receded to Korean government.
However Nothing was returned to Korea because U.S military is trying to deny the responsibility of clean-up.
During the inspection the Ministry of Environment confirmed that total 14 in 15 U.S. Army camps were found ground and water pollution after evaluation of environment of U.S Army bases which scheduled return to Korean Government Ground is contaminated mostly by TPH, BTEX, Lead, Zinc, Cadmium and Copper etc, also water is polluted by TPH, Benzene, Phenol, PCE and Xylene etc.
Phenol paralyze the central nervous system and corrode human tissue, Benzene cause reduced leucocyte, black out and convulsions. PCE is classified a carcinogenic substance. Xylene is know as a pollution substance stimulate bronchus, cause vertigo and vomiting.
The degree of contamination of returned U.S. Army bases can imagine according to pollution accidents during U.S. military used the bases. According to Green Korea's research throughout news, field survey and reports, the late of 90's almost 100 U.S. bases and facilities were reported 66 cases of pollution accidents and 77% are oil leakage accidents.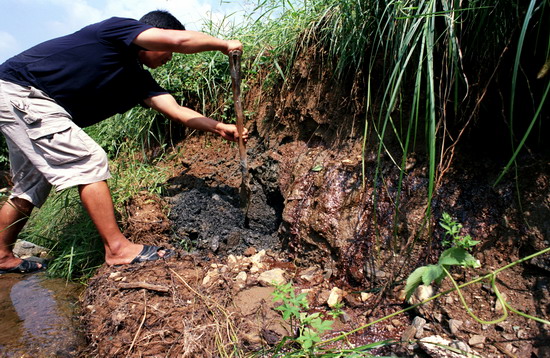 ▲ The outside of U.S base contaminated by the leakage of oil from Camp Howeze at 2002. ⓒLee Yong Nam
Last year the reports was revealed which made by the Ministry of Environment to reported National Security Committee, it says over USD 100,000,000 will be needed to clean up Yongsan Garrison in Seoul.
The problem is that Korean Government and local government will be taken all responsibility regarding contamination which discovered after returned. So Korean Government should evaluate pollution status and must demand responsibility to U.S. Armed Force in Korea.
For instance Japan government and local government charged clean up 5 cases of pollution discovered after returned bases.

According to "Tab a to the joint environmental information exchange and access rpocedures" Korea and USA agreed in 2003 they will start joint research for contamination before 1 year return bases and discovered pollution will be cleaned up by U.S. Armed Force in Korea.
But if the U.S. military in Korea refused release information regarding contamination even the National Assembly, press and Korean people can not know about clean up process because "the Tab" approved it legally.

For example Chuncheon City where Camp Page located, they got the result of environment pollution report by orally only. Even the local government can get the result orally from the Ministry of Environment of Korea and U.S. Armed force in Korea. This is the first experience for us regarding receded and clean up the U.S. Army bases but we can learn from other countries cases.
In 1992 the hundred of Fillipino who lived former U.S base in Philippine died by leukemia and cancer due to contaminated underground water and in 2003 closed former U.S. Navy training site in Puerto Rico Vieques, a cancer rate of residents is 28% higher than main land of Puerto Rico.
Experts are expecting at least 20 ~ 30 years need to clean up contamination. In spite of serious situation environment of U.S. Army bases, the U.S. Armed Force in Korea authorizes U.S. Army bases as a wildlife sanctuary and control the local people's access to there even they do not clean up contamination properly it make the local people protest against the U.S. Armed Force in Korea. In 1994 closed firing lange of Hawaii Kaho'olawe took 10 years to eliminated 70% of shells, this case tell us that clean up pollution in former U.S. Army camps needs so long time.

The Minister of Environment was questioned by some members of Committee of Environment and Labour during the inspection regarding contamination of U.S. Army bases in Korea and he promised that the Ministry of Environment will try to solve problems of information release, execution precise research for pollution and imperfect clean up process throughout Committee of Environment in SOFA(the Status of Forces Agreement)

Usually apply polluter pays principle to environment accident. No exception for U.S Army bases pollution accidents in Korea. We should be ready ourselves for be receded U.S. Army camps caused many problems in local community since last 50 years and Korean government must do their best effort to receive cleaned up the land of U.S. Army bases which the life and peace coexist together.

0
: