The agreement to revise the controversial SOFA, which governs the legal status of the 37,000 U.S. military personnel stationed, was signed by Song Min-soon, a director-general of the Foreign Affairs-Trade Ministry and his U.S. counterpart, Frederick Smith.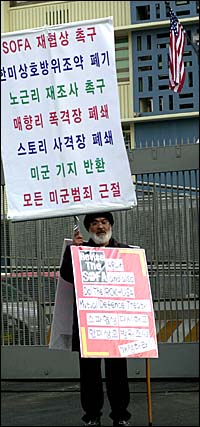 Copyright by OhmyNews
The two sides agreed to include a provision on environmental protection in the SOFA's Agreed Minutes, stating that U.S. Forces in Korea will respect Korean environmental laws and regulations, and Korea will consider the safety of U.S. personnel. Based on this provision, both sides shall sign a memorandum of special understanding that includes cooperative measures for environmental protection.
But Green Korea United denounced the SOFA revision, claiming it is a ``sugar-coated'' provision with no actual content.
"The SOFA revisions are a lie which mock Korean citizens."
"There are no clauses of punishing parties responsible for U.S. environmental crimes, nor does it include U.S. obligations to take appropriate measures to restore the environment to its original state.'' So GKU strongly oppose the endorsement of the revised SOFA and we should talk again.
The USFK has been under fire for various incidents involving environmental pollution last year, triggering strong anti-U.S. sentiments among the public. In June, the USFK admitted to discharging toxic chemicals into the Han River, a major water source for Seoul citizens. In September, a base in Wonju was the subject of allegations that it had leaked untreated aircraft fuel for the past 10 years into a Han River tributary. A former USFK base near Mt. Munhak in Inchon was also accused of polluting some 792,000 square meters of nearby land.

0
: