Oil leaks from a now-defunct U.S. Forces Korea (USFK) facility have for the past 30 years severely polluted about 1.42 million square meters of land in the surrounding area in southern Inchon, a port city 40 km west of Seoul.
Green Korea United (GKU) maintained that some 3,000 residents near the U.S. facility have been suffering from soil and underground water contamination. It estimated that restoring the polluted area to its original condition would cost hundreds of billions of won.
GKU called for an immediate and thorough investigation of the area in question along with an overhaul of the Status of Forces Agreement (SOFA). GKU alleged that almost half of the affected land in the vicinity of Mt. Munhak in southern Inchon. That area has been seriously contaminated by oil residue from the former U.S. oil storage facility.
The controversial facility, which once had a maximum of 20 oil storage units, was set up in the early 1950s and moved to Pohang, North Kyongsang Province, in 1971.
The soil and underground water in that area has been heavily polluted by toxic chemicals like toluene and phenol even 30 years after the U.S. facility moved out. Claiming that prolonged exposure to the toxic chemicals could lead to serious health risks, GKU urged the government to conduct medical tests on the residents living near the former U.S. facility.
This case is particularly serious as neither the U.S. side nor the Seoul government took any measures to restore the contaminated area to its original state over the last 30 years.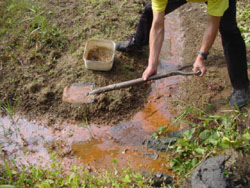 To fundamentally solve USFK-related environmental problems, the unjust SOFA should be revised to include new environment clauses, thereby obliging the U.S. side to cover all the costs involved in restoring affected areas or solving its own environmental problems in Korea.
To help prevent the recurrence of similar problems, regular surveys of soil and underground water contamination in and around U.S. military facilities in Korea are needed.

0
: