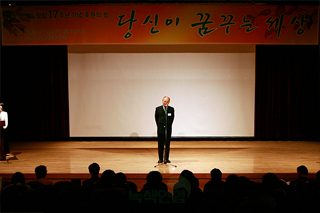 Thank you the supporters who cordially participated at the fundraising banquet with GREEN KOREA UNITED (hereinafter referred to as GKU).
The event of November 18 was warm and successful with the help from the members and many supporters of Green Korea United despite the sudden freezing weather of the night.
It is true that there had been some worries and difficulties in the process of preparations. GKU questioned to itself several times if I would impose more economic burdens on our supporters by sending them an invitation for the fundraising banquet at this hard times of the world economic crisis affecting every one of us more or less.
Moreover, due to the recent misappropriation of the public fund by KFEM, it was not easy for us to keep on request for supports because we know that the scandal has brought negative images and mistrusts on the transparency and the integrity of the environmental movements and the supporters as a whole.
But we still believe that we are going on the right way for the change and there are still many people who trust us. We think that we have the responsibility that we shouldn't lose the way towards a better and healthier society.
Hence GKU decides to hold the event as planned in spite of the hard situations.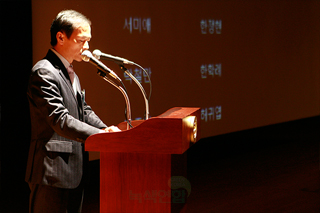 The event was most successful in 2008 along with the sharing of the participants' warm hearts.
GKU would like to deliver its appreciation to all the supporters who made a precious decision to support the GKU's activities at the event.
Especially in this year, a lot of members have sent GKU the special donations and raised the amount of their monthly donation.
Many companies also agreed to maintain donating to GKU although their business was expected in hard situations.
People say that "A friend in need is a friend indeed."
GKU always keep a heartful gratitude in mind for being with us and for your help.
I promise that GKU wouldn't stop walking towards the change, "A Green World".
I believe that all the supporters and citizens will be with us hand in hand until the day we can see the dream of 'The Green World' comes true.
Thank you.
Yours Sincerely,
CHOI, SEUNGGUK
Secretary IN General OF GREEN KOREA UNITED
November 19, 2008

0
: