A picture drawn by oil.(An art by spilled oil)
Since 2007. 12. 07
How long will the memories of the day be last?
Centuries, years, months, days, hours, minutes or seconds?
How passionate were we at the day?
"A picture drawn by oil" is a work about Samsung Heavy Industry's oil spill in Western Coast, to tell you about a meaning of oblivion and memory for disappearing things to the people living in modern society changing every hour with overflowing information and image. Through the work, I wish for the people who can easily be ignorable and indifferent to accidents in public places, to have sincere concern or to feel at least a kind of responsibility for our nature on which we left damages.
Every one of us has memories as many years as we lived.
They can be both sometimes insignificant and sometimes unforgettable.
We are less interested in public issue than in our own.
Even tough we know well that the public issue is connected to us in direct or indirect ways, we do not feel the impact on the pulse.
Record the memories.
I hope this exhibition, by each artist's simple devices to help remember, by comparing our each different information and different idea about the accident, to be remained as our own history in everyone's heart.
Public Art Freezoom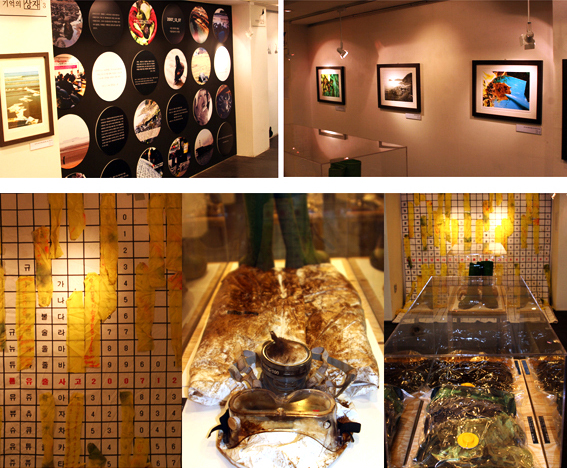 'A picture drawn by oil'.
Scene from an exhibition held by GreenKorea United and Public Art Freezoom to commemorate the first anniversary of Western Coast oil spill.
Exhibition of 'A picture drawn by oil' organized by GreenKorea United and Public Art Freezoom went on for 6 days from 11.NOV to 1.DEC at the gallery 'AN' in DUKWON building. Most of exhibits were selected among works displayed at the accident during a prevention campaign last year.
Space for exhibition was shared freely by gallery 'AN'(comfort) that took part in 'Gonggannanum'(sharing space) movement of beautiful foundation.
Last winter, thousands of volunteers for help visited to the site of ever worst oil spill on Western Coast. Now all they have turned back to their own daily life. And we are also getting away from that day's memories much fast than the speed our nature is being recovered from damages. Through this exhibition, I am trying to leave a record about an aid work at the accident and 'A picture drawn by oil' displayed as one of prevention campaigns.
On 3 pm, 11. NOV, in the middle of exhibition, we had a time for members of GreenKorea Unite and volunteers participated in the campaign to talk each other. In spite of that now it has been a year from the accident, there were no big advances at neither specific compensation plan nor figuring out an exact amount of damaged area yet. And the accident is slipping out of our memories little by little. I am moving the spot of accident into a city we are living on and rewinding a film of memories of the day.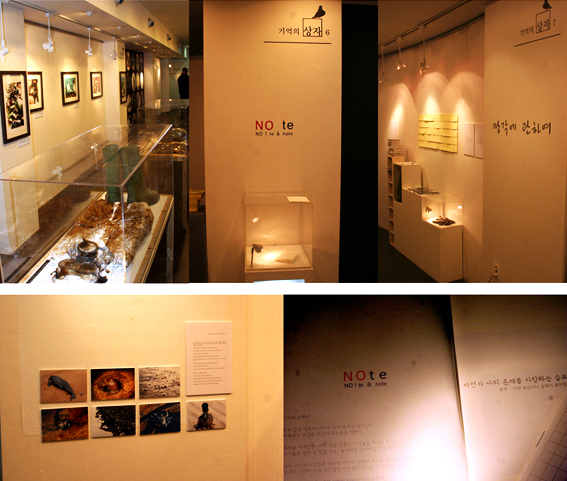 Date: From 26th. Nov. 2008 to 1st. Dec. 2008
Place: Gallery 'AN', 2nd Floor, DUKWON Building, Insadong
Organizer: Green Korea United, Freezoom
Sponsor: Gallery 'AN', Beautiful Foundation

0
: